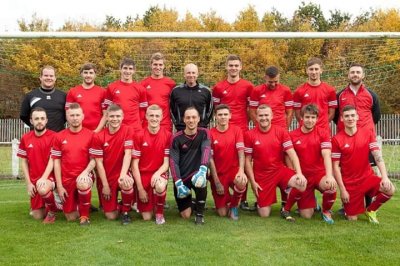 PLAYERS PROFILES 2008--9
CRAIG RODGERS Goalkeeper (24)
Craig has been with the club for quite a while now and has grabbed his chance when it has arrived. Great stopper and listens and learns. Will always give his best.
STEVEN GARRARD Defender (20)
Re-joined late last season after a brief spell with Staveley MW. Played every minute of our 40 games in season 2003-04 and a few in the reserves as well. Strong, committed full back that learnt his trade at Chesterfield.
STEPHEN SPENSLEY Midfield (29) Team Captain
PENER has joined us after many years of us chasing him for his signature. Strong competitive midfield who will give us the strength in the middle to go along side Dave Barrie. Previous club Alfreton Athletic.
MICHAEL NOVAK Defender (26)
New face at the club this season and has settled into the right back spot. Comfortable on the ball, defends and covers back well and we are pleased to have him on board.
BEN WILLIAMS Central Defender (21)
Ben is our latest signing and we hope he can plug the gaps in our leaky defence. On first impressions he will fit in fine and be a big plus to the side. Strong in the air and tackle, reads the game well.
KEIRAN CRAWFORD Midfield (19)
Recently made the step up to the senior side and has not looked out of place. Good learning spell at Chesterfield and many say he will be the best of the 3 brothers. Can operate in many positions but has been used wide right of midfield so far. One for the future.
MARK DEAKIN Forward (27)
DEEKs is a goal machine, but we have not yet seen the best of him. Missed half of last season after the birth of his son but what we saw of him you had to be impressed. He scored 27 goals in 28 matches for his previous club Rainworth and we hope with Mark fully fit he will perform likewise for us.
RICHARD PARKER Goalkeeper (23)
'Casper' has rejoined us once again, returning from Teversal. He has undoubted qualities in the goalkeeping field and is hoping to get back to full fitness to be pushing Craig for the first team keepers spot. Great stopper and talks a good game to those in front of him.
PLAYERS PROFILES 2007--8
RICHARD GROVES Midfield/Attack (19).
Another youngster who joined last season and whom we have high regard for. Joined from Heanor he has impressed with his speed and trickery and will create chances for the team. Has proved to be lethal in front of goal and is surprisingly good in the air for a small guy.
RICHARD WALL
Defender (22) Richard was an important signing last season and should his qualities in defence. It was a major blow when he was injured in October but he returned after Xmas and slotted back in as though never away. Now qualified as a teacher we look forward to more outstanding performances from him again. Reads the game well, is quick to cover and organises those around him. Previously at Borrowash and Heanor T
RICHARD PARKER Goalkeeper (26)
'Casper' is now labelled as one of the senior players in the squad and he undoubted ably brings out the best out of the players in front of him. Lots of 'rattle' but always channelled in the right direction. Great qualities in the goalkeeping field, great stopper and talks a good game to those in front of him.
MARK DEAKIN Attacker (28)
What can you say about Mark, been with the club 3 seasons and during that time has scored 70 goals in 102 appearances. Certainly knows where the back of the net is and commands great respect from not only players at our club, but from clubs and officials around the league.
CRAIG RODGERS Goalkeeper (26)
Craig has had a stuttering career at this club, having moved away on several occasions, but he always seems to come back to us. Great stopper, good in the air and over the years has got better and better. Will be pushing hard this season to be number one, which is only good for the club, competition for places
WES BRAMLEY Defender (20)
Wes will be looking to progress his career with us this season and show he is worthy of the step up. Has undoubted skills and will prove to be a good defender if he continues to work hard at his game.
DEAN BRAMLEY Forward (17)
Dean is another one of our highly thought off youngsters who enjoyed several starts in the senior side last season. With his increased physical strength we hope to see him blossom in the near future. Knows were the back of the net is and will continue to learn.
DANNY PAYANDEH Midfield (21)
Danny joined last season and when given the chance took it with both hands, Plays wide right and is very quick. We will however be looking for more consistency from him this season and hoping he can increase his goal scoring record.
TOM BATES Wide Midfield / Defender (22)
Although small in stature, Tom has shown in performances for us that he can hold his own with the big boys. Pacy player who will work his socks off and if not provided a pass put his foot in to stop one. Will be another looking to command a 1st team spot

STEVE GARRARD Defender (21)

Steve has got to be our most consistent player at the club, clocking over 200 games. Terrific defender and competitor, plays through the pain barrier at times when he shouldn't but that shows the commitment of the lad. Grounding at Chesterfield and is a solid member to the back four.
BEN WILLIAMS Defender (23)
Ben missed most of last season due to an injured foot but when he returned he made it difficult for the management to leave him out of the team. Strong, physical player who tackles well and manages to break up play in all areas. Gives 100% to the team on all occasions, best employed as a centre back but will also work his socks off in midfield.
AARON GORDON Wide Midfield (18)
Local youngster who enjoyed several starts last season and proved to be a valuable part of the squad. Has been utilised wide on the right and has shown an appetite to work hard for the team and scored his first goal against Clipstone last season with the stature of a veteran
MATT HERRETT Defender (20)
Last seasons reserve player of the year, but would have been in the senior side if not for a injury mid term and the form of Wall and George. On the verge of senior football and when fit will be hard to keep out of the team. Quick, reads the game well and tackles clean as a whistle.
MICHAEL NOVAK Defender (24)
Mike showed again last season what an outstanding defender he was and also enjoyed a variety of different position when called upon. He will however be looking to improve on those performances. Solid and reliable in defence and is always willing to break forward to build the attacks.
STEPHEN SPENSLEY Midfield (31)
Team Captain SPENER is our play maker in the centre of the park and will always be looking to attack the opposition. Strong competitive midfielder who will give us the strength in the middle to go along side Kierran. Previous club Alfreton Athletic.
WAYNE HOPE Attack (32).
Wayne has been at the club for about three seasons now and has only a handful of games at senior level under his belt, but this season he has taken his chance and been a revelation up front. Will battle hard for you, chasing down lost causes.
RICHARD KEW Wide Midfield (22)
Much will be expected from Richard this season who after impressing last season seemed to go off the boil towards the end of last season. That was mainly due to injuries but we hope that when fully fit he can provide the ammunition for the front men. Likes running at players and is quick, scored a few so far but can also be employed in a variety of positions.
JORDAN GREGORY Defender (18)
Jordan enjoyed a great first season with us and last year tried his luck at Arnold Town before moving back late last year. Has undoubted qualities in all sides of the game, keen to learn and will be a great asset to who ever he plays for. Can play in a variety of position but we think his best position is as sweeper.
JOE PARKER Striker (19)
Latest signing to the club, local lad who will link up well with Deakin and score lots of goals. Quick, exciting and strong. Will frighten defences to death with his direct style of play.
JOHN HARRIS Midfield/Defender (20)
Seems to have been at the club for ages, but after getting into the team at 16 his appearances have become limited. Has now become stronger physically and we hope to see his name on the team sheet more often. Great left foot and works hard either in midfield or down the left flank.
SAM HARRIS Wide left (17)
Made his senior appearance in the last game of 2006/7 and with his increasing physical strength to go with his tremendous skill will be looking to become a major player in the team for years to come. Probably the most skilful player on the books and if his attitude is right will be a major thorn to oppositions & a match winner for us.
KEVIN JACKSON
Manager Kevin was promoted to the first team managers position in 2005 and along with Ben steered us away from relegation and then took the club to its highest positions in seasons 2005/6 & 6/7. Keen to use youth in the team and is hoping for further improvements this time. Good grounding at Heanor and Swanwick.
BEN CALPIN Assistant Manager (26)
For one so young, Ben knows plenty of good players and will be using his contacts to bolster the first team squad. Promoted from the reserves to assist Kevin and is enjoying the new challenge put in front of him.